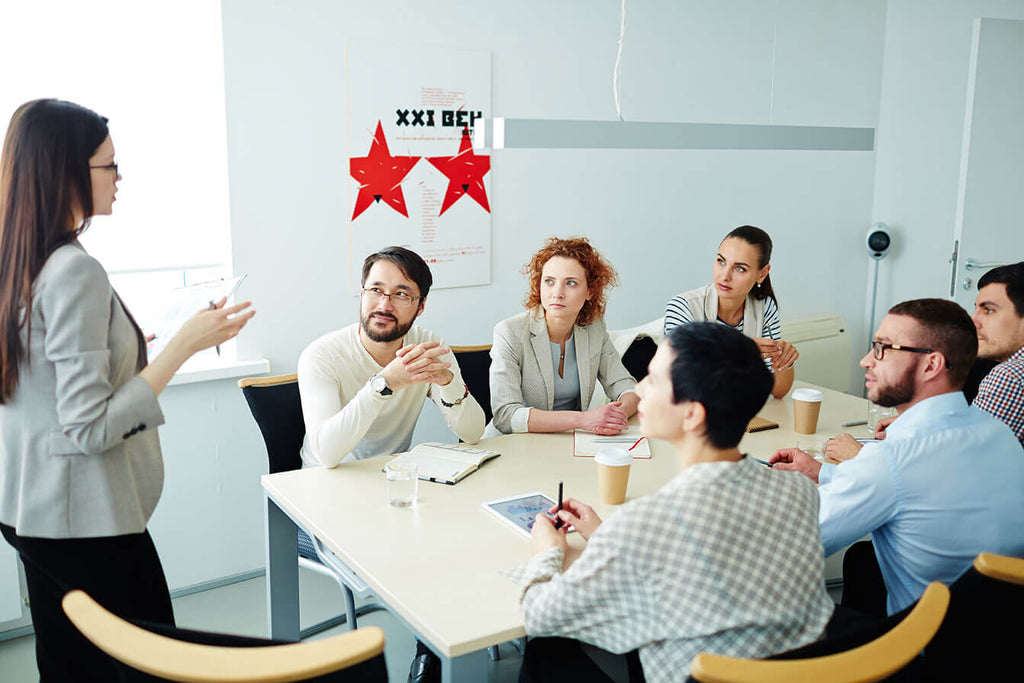 Regardless of what you're going to sell – cakes, software, or an airplane- you always need a presentation to convey your great ideas clearly and comprehensively. Your presentation will provide potential consumers with all the information they need to know about the product you are selling and why they should consider investing. These types of presentations are often referred to as pitch decks.
A business pitch deck is a presentation that helps potential investors and funders to learn more about your company, business concepts, products, and startup vision. People often mistake pitches for simple PowerPoint presentations of the company or idea. However, this is not entirely true because a pitch is more than just a presentation.
The main goal of the pitch deck isn't to land an investment opportunity right away. But it might as well be the most important tool for startups at early stages. A new company is most likely to fail without investors and partners, so it is necessary to create a quality presentation to attract investors' attention, engage in a conversation about your new product, and make an overall favorable impression. The best pitch decks convince the audience that the startup has a long-term vision, and that it's worth arranging another meeting to discuss the investment plan in detail.
How to Design a Successful Pitch Deck?
Once you decide on the pitch deck tool and select an appropriate presentation template, it's time to start working on the structure and content. Some successful pitch deck examples, such as the pitch decks of Airbnb, Facebook, etc., can be used for reference. The best business pitch deck usually has 10-20 slides. The ideal structure includes parts such as the business problem, product, market size, business model, marketing strategy, etc. Make sure to follow the specified structure to be one step closer to success.
You just need to make sure that your business presentation doesn't exceed 20 slides. Your goal here is to attract potential investors; you do not want to bore them with a business plan that is longer than necessary.
Typically, successful pitch decks include the following slides:
1. Introduction (company name, founders' names, etc.)
One of the most common mistakes people make when it comes to pitch decks is they do not provide information about what their company is and does. How can you expect an investor to consider collaborating with you if they don't know this critical information?
2. The problem
You certainly started your

business

with some purpose in mind.
           - What does your business do for the world?
           - What problem does it seek to resolve?
           - What is your business goal?
If you do not discuss some sort of problem that needs resolving, then you're going to have a tough time.
3. Solution
To continue with the problem, you need to focus your pitch deck on the problem's solution. How will your business solve this problem? You want the focal point of your

professional presentation

to be the solution.
4. Product
What is the product or service that you are providing?
5. Target market
Who is your company's ideal target? Whom is your product created for? Surely, you should have done some research for developing an adequate

marketing strategy.

By studying the competitors, you will want to establish a reachable and specific market for your product.
6. Competitors
Another fatal mistake that startups make is not including anything about their competitors, or making bold statements such as "we do not have any competitors."
7. Competitive advantages
Even though every business has competitors, your investors need to know why they should work with you and not the other companies. Good

pitch decks

always include information about the competitors and what sets your business apart from the rest.
8. Business model and monetization
You've described your product. Now, it's time to inform potential investors how your product makes money.
9. Traction
Traction refers to any successes that your

business

has already had.
10. Financial information
An investor will want to see

financial information

about your company, including

financial reports

from previous years and

financial statements

. These shouldn't be too in-depth for the

pitch deck

, but you should include some of the basics.
11. How the funds will be allocated
Finally, you want to do what the entire purpose of your

pitch deck

is: ask your investor to collaborate with you.
           - Why do you want them to fund your business?
           - What are your financial goals?
           - What is the financial plan?
           - How do you intend on using this money to enhance your startup?
Conclusion
There is a clear difference between pitch decks and professional PowerPoint presentations. While it is a good idea to become an expert in creating both, it is evident that pitch decks have a specific structure that will ensure your success. Once you become well-versed in the art of creating pitch decks, you will be able to secure investments and collaborations for your startup in no time.