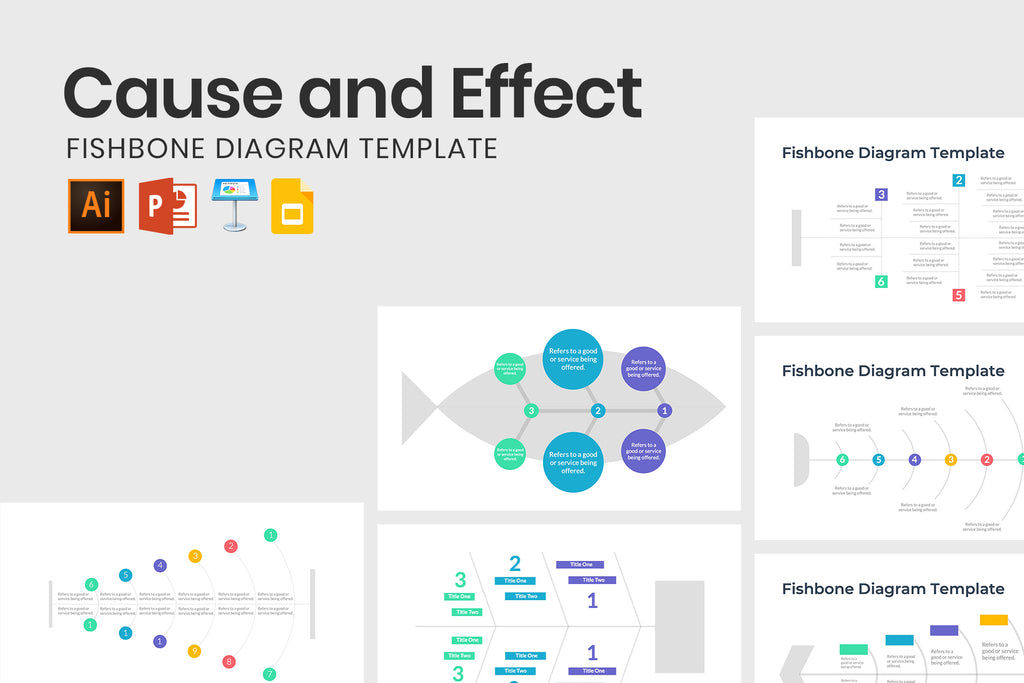 Fishbone diagrams are infographics that were created to find or detect errors in the company. Subsequently, find solutions and make the right decision for the benefit of the company. In this blog, you are going to see 5 Modern Fishbone Infographics Template. Each one of them is very, very easy to use. These templates have different styles, colors, and designs. Since you will have many options to choose from, the chances you find a template that fits your needs increases. So, if you are part of the board of directors of the company and need to expose some situation affecting your company, get these templates, and present your results.
1. Fishbone Analysis
I am happy to introduce you as of first template Fishbone Analysis. In this professional theme, you will be able to describe any error detected in your company. By downloading this theme, you will receive many types of fishbone infographics. Just add your concepts or texts in the lines of the infographics, and that is it. The advantage of this template is that you can customize the layouts as you prefer the best.
2. Fishbone Diagram Template
Do not worry if your boss entrusts you to make a business presentation to show many situations. With this complete template, you will make the perfect presentation to explain the error detected in the company. Fishbone Diagram Template has a great variety of diagrams that you can choose whatever you prefer. The cool part of this theme is that you can edit each slide. It has many tools and icons that will help you to improve making an excellent business meeting presentation.
3. Fishbone Problem Solving
If you did detect some particular situation in your company and you have to describe it, utilize Fishbone Problem Solving. With this formal and professional template, you will have the ability to present all the details of the problem in your company. This template has many types of fishbone infographics. In them, you can reflect the issues, causes, and possible solutions. So, if you want to get the promotion in your job, download this theme and showcase all the situations and solutions.
4. Fishbone Diagram Presentation Template
If you are looking for an exclusive and technical tool that can help you describe orderly a problem, I recommend you getting Fishbone Diagram Presentation Template. This spectacular theme will help you present important concepts in a brainstorming layout. This tool has slides that contain infographics that will allow you to add individual words or keywords that describe what elements are affecting your company. Having all the causes, you can keep them in the fishbone infographic and present them in sequential order.
5. Cause and Effect Fishbone Diagram Template
Cause and Effect Fishbone Diagram Template is a theme that will help you describe what factors are affecting your company or business. It has slides with infographics where you can add keywords or possible causes of the problem. Also, it has infographics which you can use to add possible solutions. Take advantage of all these tools and do an excellent job to impress your boss.
Conclusion,
In all the companies exist problems or situations that affect the company's control. For that reason, I recommended you download one of these fishbone infographic templates. You can organize all your ideas, all the causes of the problem in the infographics. Then, you can add those ideas in the fishbones infographics. So, do not wait for more and download the theme that meets your liking and needs the best.