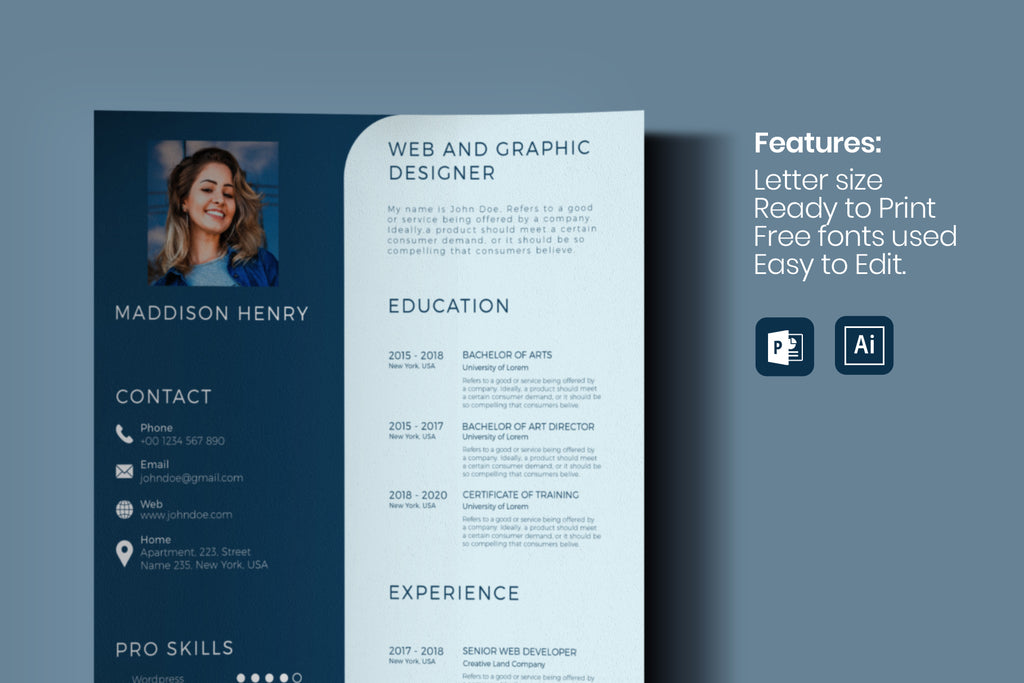 A resume is a document where you can present precise relation the work data, abilities, and experiences a person has to be hired in a job or communicate reliability. The main goal of a resume is to generate a good impression and interest to be known and get a job interview.
Do not worry if you do not know how to make correctly a resume, or what elements you have to include in your document. I introduce you about 10 Clean and Stylish Resume Templates. With these templates, you can to talk about your knowledge, abilities, experiences by just typing your information in the blanks and that's it.

These templates are made professionally and correctly, so you will not have to worry about the look of your resume. Download the template you like the most, prepare your resume, and get that get the job you have always wanted.
1. Creative Resume Template
As a first hand, I introduce you the Creative Resume Template. This theme is a tool that will help you to prepare in a correct manner section by section your resume. Its bluish color scheme is going to be catching the attention of the interviewer. Type all your information in this template and get ready for that job interview.
2. Patmos Resume Template
I want you to present the Patmos Resume Template. The main color of this template is a greenish tone that is going to portray confidence and professionalism to your employer. In Patmos Resume Template, you can add all your own information like your work experiences, skills, aptitudes, languages, and personal information.
3. Icaria Resume Template
Probably you are trying to apply to your goal job. Well, impress your interviewers with your creative and fashionist resume. Download Icaria Resume Template and present your abilities there. Its pinkish color is going to communicate creativity and passion. Every section of this template is entirely editable, which means you can add and remove what the elements you want.
4. Corfu Resume Template
Do you have an interest in getting a job, but you do not know how to prepare your resume? Stop worrying and download Corfu Resume Template. In this template, you can add all the information you want to share to your interviewers by just copying and pasting in the areas where they correspond.
5. Sefiros Resume Template
Sefiros Resume Template is a creative and minimalist tool that with the help you make a strong impression on your interviewer. With its yellowish style, you will be able to stand out among all the applicants. It is easy to use, which means you will only type what you want to share in the right areas. Also, you can customize the colors and designs.
6. Milos Resume Template
Stop looking for a bicolor and minimalistic resume template. In this time, I want to showcase your Milos Resume Template. This theme has an outstanding style thanks to its white and black colors. Thanks to the organized sections of this template, it will be more accessible to the interviewers to read your resume. You can change the style since it is extremely easy to use.
7. Maxos Resume Template
Take advantage of the bluish of Maxos Resume Template that communicates confidence and trustworthiness. This template is special and unique because thanks to its ordered sections, they will help to get your interviewer's trust more comfortable. It is totally editable, so you can remove the parts you consider do not need.
8. Pix Resume Template
Persuade your interviewers showing your skills, contact information, education, and work experience in this minimalist Pix Resume Template. So, if you want to increase the chances of getting the job that you have wanted, consider downloading this magnificent and elegant resume template now.
9. Santorini Resume Template
It is said the first impression you leave to your interviewer is the most important. So, you can apply this by getting Santorini Resume Template. With this minimalist and modern resume template, you can summarize all your skills, knowledge, education, and more. The cool of this resume template is that you can edit or move the sections as you like.
10. Rhodes Resume Template

Rhodes Resume Template is an elegant tool that will help you increase the chances to stand out among others. Add all your profile information and your job experience in this complete resume template. Convince your interviewers and make clear that you are the best option.
Conclusion,
Do not spend time thinking about how to elaborate a resume template. It can be tiresome and stressful. That is why we have gathered together these 10 Clean and Stylish Resume Templates. In this collection, you are going to find high-quality resume themes. Each one of them is going to help you make a strong impression among your interviewers without putting much effort into it.
Just download the templates you like the best, copy-and-paste your information in each selection, and add your picture. You can change the colors, designs, and much more. So, go through these templates and use it as your next resume template.